PE
CamVC Home Learning Showdown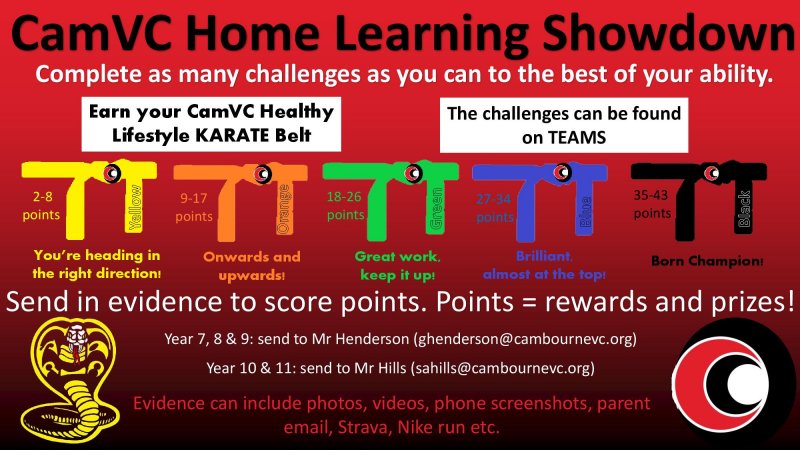 Cam VC Healthy Lifestyle KARATE Belt Challenges and Workouts.
Keep yourself active and earn your belts. Complete any of our challenges or workouts to progress through the belts. You'll find everything you need on your PE CLASS TEAMS
Norwich City FC - Football Futures Camp
A notice from Pip Davis from the Norwich City Football Club Regional Development Programme, responsible for their post 16 football and education programmes, the progression of their students into higher-level football, university and employment.
Over the Easter holiday, they are delighted to offer the opportunity for year 9, 10 and 11 students to join them for their very first Football Futures camp.
This will be a 3-day camp to include training sessions from their fulltime staff, fixtures, workshops from people working in the sporting industry and talks on progression opportunities for students within sport. This will provide a fantastic insight into the opportunities available for all young people following their time in education. See the attached link to their website article regarding this for further details.
NORWICH CITY FC | YEAR 10 GIRLS
Norwich City FC are inviting Year 10 girls to a free taster session at their Player Development centre at St Neots.
The PDC is a 32-week programme that delivers coaching in line with the Norwich City FC DNA and philosophies, by Norwich City coaches.
Members of the PDC have the opportunity to represent Norwich in fixtures during school holidays, an annual tour opportunity, access to female role models in sport and much more.
The session details are as follows:
St Neots Town Football Club
Friday 11th December
7:30-9pm
If any of the girls would be interested, they can register for their free taster session by contacting Jack Rayner at: jack.rayner@canaries.co.uk
NORWICH CITY FC | OPEN TRAINING