Compete for your region in Battle: Cambourne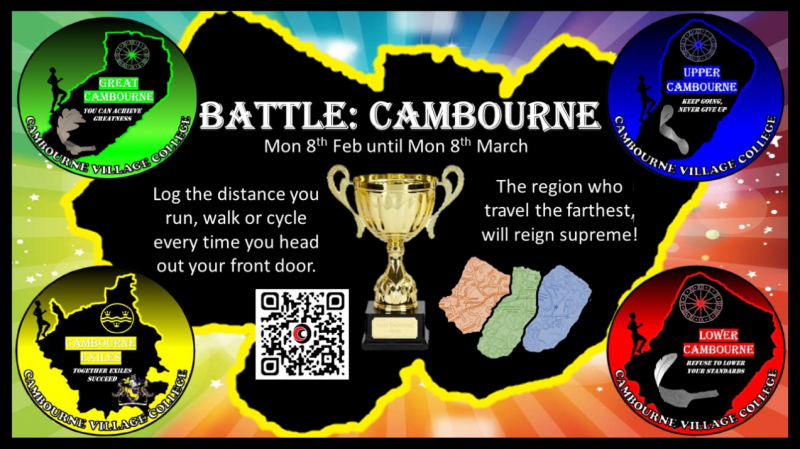 The Cambourne Village College PE department is launching a distance competition! The region who travel the farthest will reign supreme!
The whole of the Cambourne community can use any method such as walking, running, biking or scooting to cover as much distance as possible between Monday 8th February and Monday 8th March.
The PE department and your region's Year 11 captain are calling you and your household to compete for your region:
Great Cambourne – Izzy ©
Upper Cambourne – Elliot ©
Lower Cambourne – Max ©
Cambourne Exiles – Posy ©
Your team is based upon where you live in or outside of Cambourne. Cambourne Exiles includes anyone who lives outside of Cambourne but has links to Cambourne via the schools, work, family or community. Your region needs you!
Watch this short video for more information on Battle: Cambourne:
Battle: Cambourne information video
Submit your completed distance using this link:
Battle: Cambourne distance submission form
CamVC Home Learning Showdown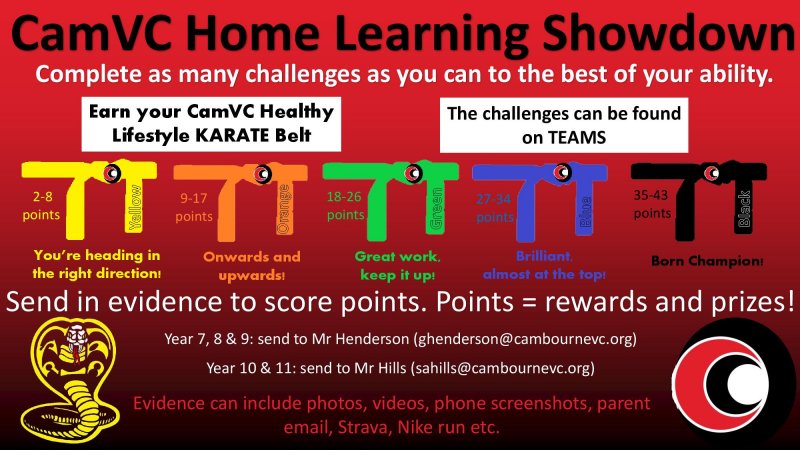 Cam VC Healthy Lifestyle KARATE Belt Challenges and Workouts.
Keep yourself active and earn your belts. Complete any of our challenges or workouts to progress through the belts. You'll find everything you need on your PE CLASS TEAMS
Norwich City FC - Football Futures Camp
A notice from Pip Davis from the Norwich City Football Club Regional Development Programme, responsible for their post 16 football and education programmes, the progression of their students into higher-level football, university and employment.
This will be a 3-day camp to include training sessions from their fulltime staff, fixtures, workshops from people working in the sporting industry and talks on progression opportunities for students within sport. This will provide a fantastic insight into the opportunities available for all young people following their time in education. See the attached link to their website article regarding this for further details.