The Cambourne Village College Charitable Trust
Our School
The College has enjoyed remarkable success since opening in 2013, gaining an early Ofsted Outstanding rating along with designation as a Leading Edge School.
Alongside excellent examination results, we offer arts, music and cultural activity at the highest level. All our pupils study music, drama, dance and art at Key Stage 3. Annual musical theatre productions, termly concerts, school orchestra and choir offer many opportunities to build confidence through performance. For younger pupils, Cambourne Music School for primary musicians is run by our Music Department after school hours on three evenings per week. The College is currently applying for the Artsmark Platinum Award as recognition of this exceptional curriculum breadth.
We strive to be a welcoming and inclusive school for all our pupils and also to fulfil our Village College ethos in serving the whole community: we support an active adult education programme and more than 30 local groups and organisations make use of the school's facilities, out of hours. This unusual commitment to our local community was a key factor in our winning a prestigious Silver Award in the 'Making a Difference' category of the Pearson School of the Year celebrations in 2018.
The Arts
There is mounting evidence of the impact of arts and culture on the academic achievement, confidence, motivation and life-and-coping-skills of young people, and of its impact on the health, wealth and wellbeing of communities. The Cambourne community has no arts-related venue and extremely limited access to cultural and leisure activity.
Our goal is to build on our experience of successfully delivering outstanding arts and culture and to transform opportunities for our students and our wider community to see, experience and take part in arts, music and cultural activity of the highest possible quality. To achieve this, we have been working to develop a new arts and performance space on our school site, for use by the whole community.
This will provide a wonderful new arts venue and will support our work with young people in music and drama, as well as being a community resource. Central to our ethos is the vision of developing excellence in music and the performing arts for Cambourne and beyond, bringing an enriched cultural dimension to the lives of our pupils and to the growing local population.
We cannot achieve this alone and are looking for partners and supporters who share our vision for our young people and our community.
Arts Centre and Cinema for Cambourne
With the support of the Town and County Councils, Cambourne Village College has built a large performance hall. The Cambourne Village College Charitable Trust (Registered Charity Number 1186156) was established to accomplish this project and we are seeking new sponsors and supporters who share our ambition of enhancing the cultural lives of our pupils and of our community.
Our vision is to host professional arts events and cinema in the evenings, weekends and school holidays for the people of Cambourne and the surrounding area.
Our community already makes extensive use of the College facilities. Our ambition now is to grow the Arts offer for local people. We aim to attract professional touring musicians, theatre and dance companies, and to show box-office cinema through the community cinema outlets, just weeks after top-ranking films are released. This will include the live satellite broadcast of west-end theatre and opera.
Our project so far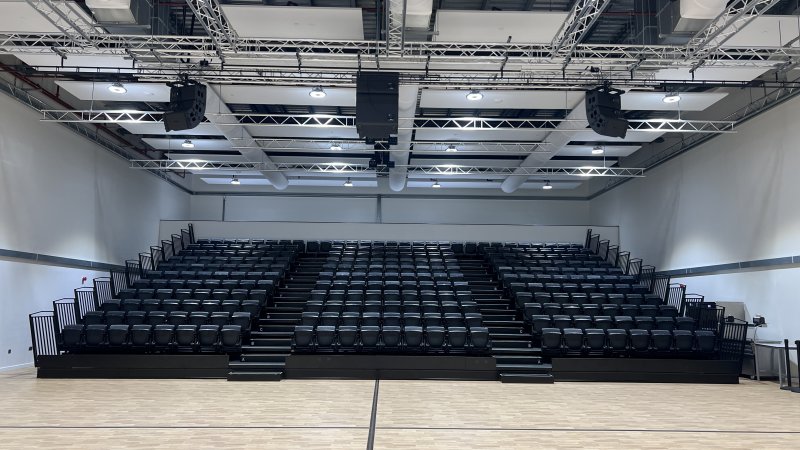 The original Council funding only paid for the hall's basic construction, so the College set up a Charitable Trust which has so far raised £165,000 for the fit-out. With an additional £130,000 funding from the Cam Academy Trust, tiered seating for an audience of 320 is now fitted, and installation of conference facilities, staging, curtains and rigging is under way.
The project to build and equip the new hall was sub-divided into three phases as shown in the table below. The fantastic achievement of fundraising for phases 1, 2 and 3 is now complete.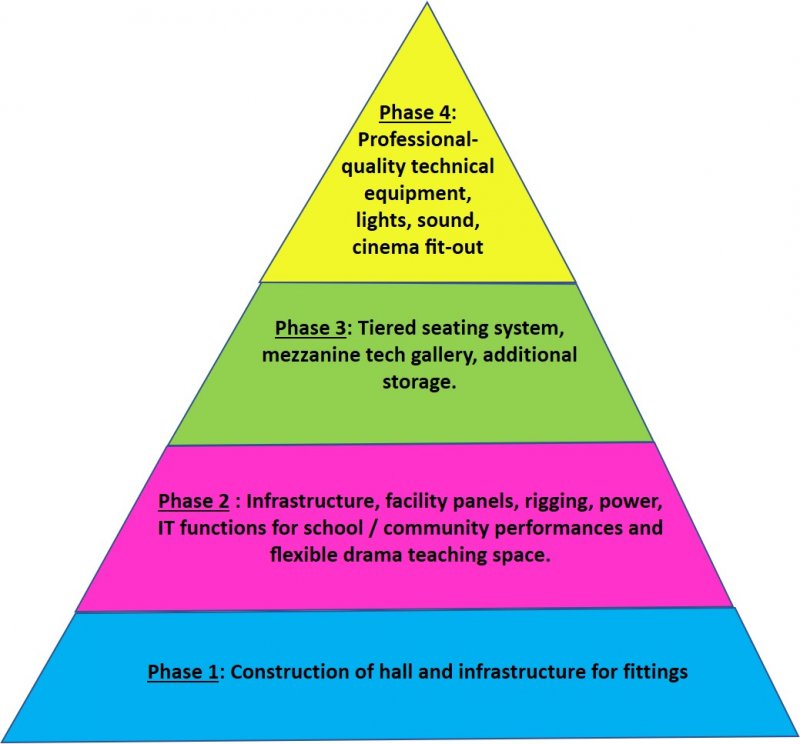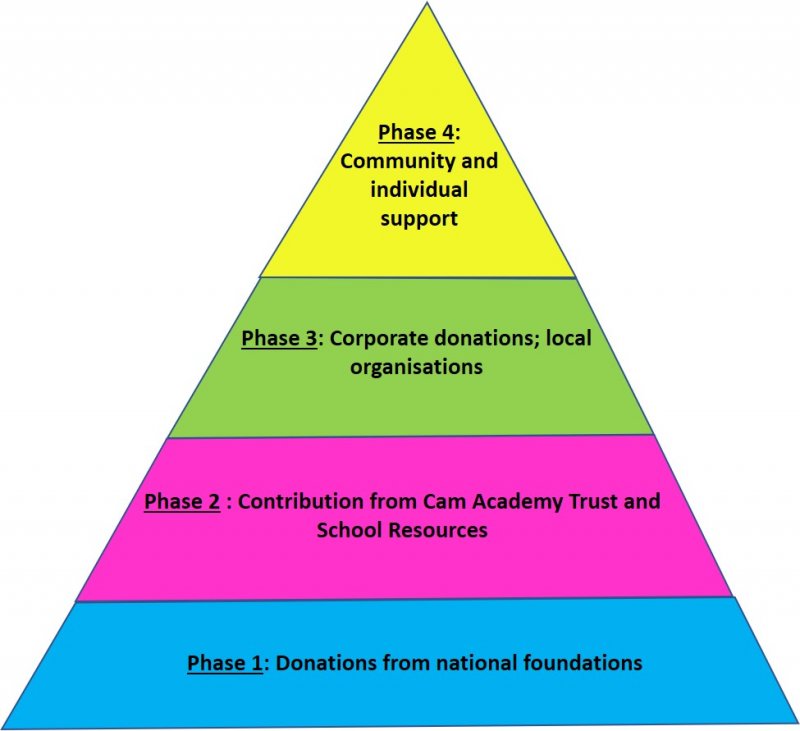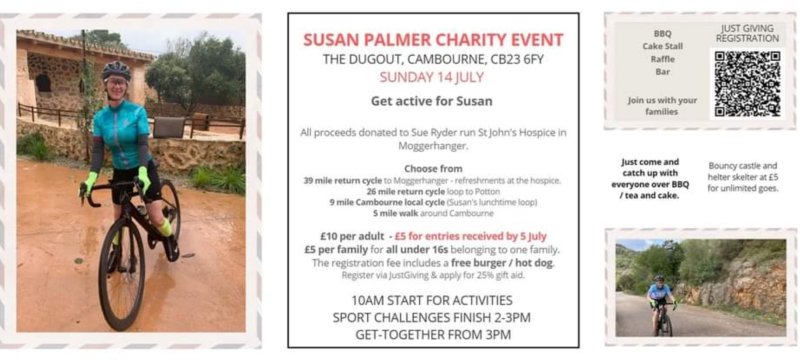 The Final Push!
The stage lighting is now fully funded and due to be installed next term. We are now seeking to raise a final £30,000 to:
| | | |
| --- | --- | --- |
| 1 | Build a storage shed to house school equipment while the theatre is in use | £10,000 |
| 2 | Install a Cinema projector in a new Sixth Form Centre Lecture Hall to provide a Community Cinema for Cambourne (Completion 2024) | £20,000 |
All donations, however small, are immensely welcome, to achieve the final phase of our vision for an Arts Centre for Cambourne.
We made a start on this by holding our Grand Raffle back in April 2023. The winners of these prizes can be found here.
---
How to Donate
Please visit our PEOPLE'S FUNDRAISING page for more information and how to DONATE or scan the QR code below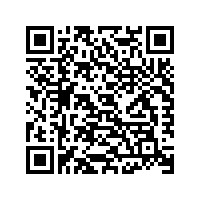 ---
Extra Links
Cambourne Village College Charitable Trust People's Fundraising Page
Previous Cam VC Music Productions
Previous CAM VC Drama Productions