Schools and Business Park Access
2nd August 2022
Dear Parents and Carers
In March we wrote to inform you of the traffic congestion likely to be created by the diverted road access to our schools through West Cambourne. The full text of our letter is on the CamVC website: https://www.cambournevc.org/ Sort Schools' Access Plea!
In a further development, an organisation called SCIP has published a proposal to develop land adjacent to Cambourne Business Park for 'up to 260 much needed new homes': http://www.scipatcambourne.co.uk/ These homes will add traffic to local roads.
According to the consultation website: 'The South Cambridgeshire Investment Partnership is a 50:50 joint venture between South Cambridgeshire District Council and Hill, one of the UK's largest private housebuilders.' Their proposal includes a bus and cycle link between the new development and West Cambourne via the existing business park road. Their website claims 'Allocating the site for residential use was deemed necessary to enable the new Cambourne West community to be integrated into the rest of Cambourne. As such, connectivity is a key theme that has been incorporated into these plans.'
It is questionable how failing to provide a link for local traffic from existing Cambourne to our schools and between Cambourne and West Cambourne, meets these objectives. This link was one of the obvious solutions to our access problem, as shown in our previous letter and reproduced below.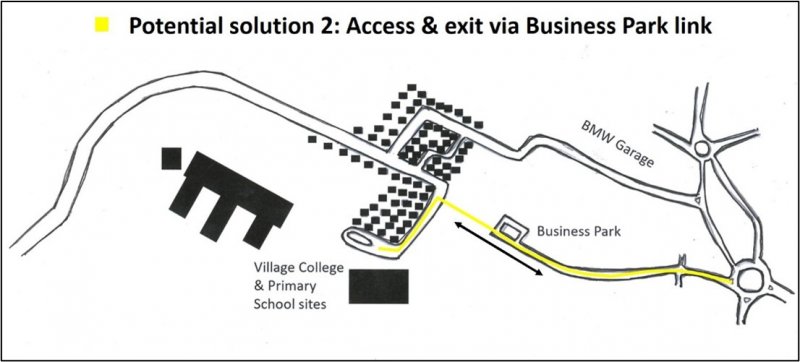 School staff have also met with Taylor Wimpey representatives to discuss the problem of school access caused by the new building developments. Taylor Wimpey do not propose changing any aspect of their road layout other than to facilitate the proposed solution above. As such, at present there is no alternative to the planned circuitous car journeys to and from our schools through the new housing estates, as shown in our first letter.
SCIP have set up a public consultation website with details of their plans and a survey with a comment box at its end: http://www.scipatcambourne.co.uk/
Anyone who has to drive to our schools' site for any reason, or between Cambourne and West Cambourne, may wish to comment on the connectivity aspects of this new proposed housing development. THE SURVEY CLOSES ON 6 AUGUST.
Yours sincerely
Claire Coates James Hoban Cate Thompson
Cambourne Village College Hardwick and Cambourne Primary School