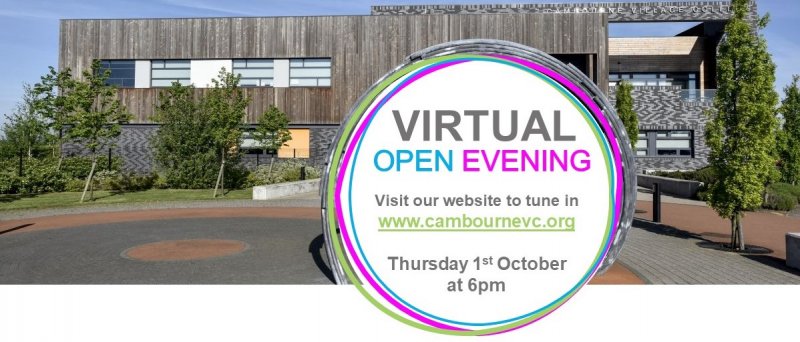 Welcome to Cambourne Village College
Thank you for visiting our website.
Cambourne Village College, an academy of The Cam Academy Trust, opened in September 2013 for a first cohort of just 132, Year 7 pupils. Since that time, we have experienced quite remarkable growth, gaining one cohort of pupils per year until September 2017 when we were a 'full' 11-16 school for the first time. We currently have 1120 pupils on roll, our third Year 11 cohort is working towards their summer examinations, and our intakes continue to increase.
The College has enjoyed remarkable success since first opening, gaining an Ofsted Outstanding rating, along with designation as both a Leading Edge and a Teaching School. We are committed to ensuring that all of our pupils achieve their utmost academic potential, whilst providing an outstanding extra-curricular offer and an inclusive, welcoming environment. We sit at the heart of one of the fastest growing communities in the UK and seek to be able to offer a place to all pupils who live in our catchment.
From the outset, our 'Village College' remit has been central to our ethos. We support an active adult education programme, and more than 30 community groups and organisations make use of the school's facilities. This unusual commitment to our local community was a key factor in our winning a prestigious Silver award in the 'Making a Difference' category of the Pearson School of the Year competition, 2018.
The rapid expansion in our pupil numbers in reflected in the ongoing expansion of our facilities. Extra accommodation was added in 2017, and a further wing is due to open in January 2020. The College is actively seeking to offer Sixth Form provision from the early 2020s.
Our aims are summed up below: and further explained in our Ethos Statement.
Aspiring to Excellence
We are a dynamic, innovative and outward-looking school.
We value every individual and seek the best possible outcomes for each one.
Our staff is highly qualified, exceptionally committed and continually learning.
We nurture mutually-beneficial partnerships which enhance our pupils' opportunities and well-being.
We are sustained by collaboration, mutual support and trusting relationships.
We are an open, friendly school, where all people feel they belong.
We are proud to serve our community of Cambourne and want Cambourne to be proud of us.
I hope you find our website interesting and informative: if there is anything else that you would like to know, or if you would like to arrange a visit to the College, please do Contact Us.
Claire Coates
Principal