Metamorphosis performed by the CamVC Jazz Band
Enjoy the video of the school Jazz Band (a mixture of our Year 10 and 11 students) performing a piece called Metamorphosis written by Mr Mulholland. The students recorded their parts individually and they have been combined together to make one performance. The recording is available HERE (school login required).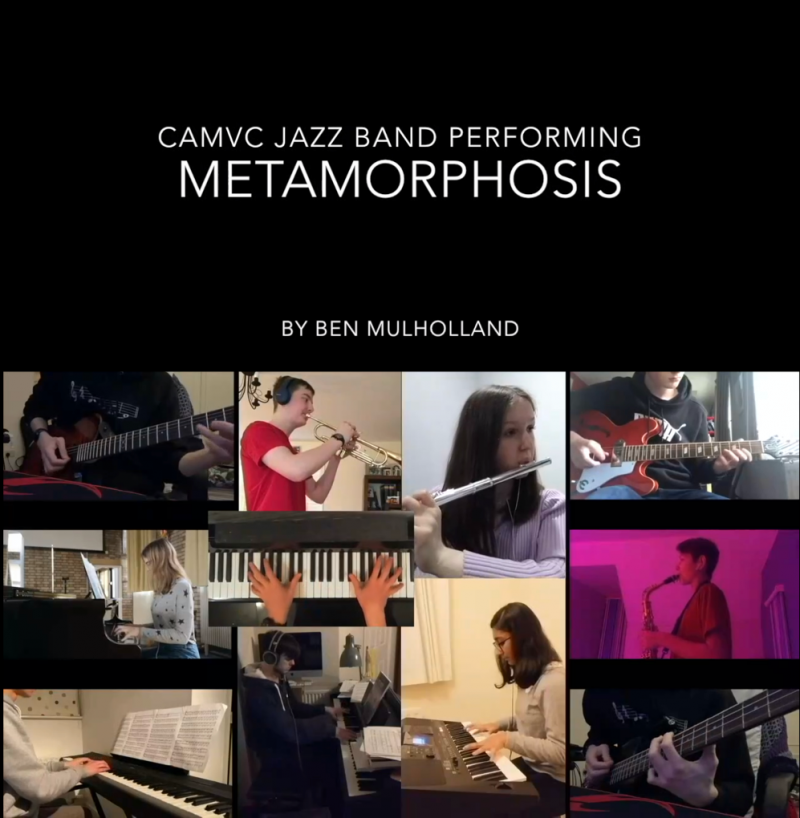 Volunteers to Help with Pupil Testing for Covid-19
Dear Parents and Carers
We are now working on plans to reopen school for all students from Monday 8th March. For this to happen as safely as possible, the Government is requiring all pupils to be offered a series of lateral flow tests for Covid 19 upon their return. This is a very labour-intensive activity and we are seeking volunteers to assist us with this over the period 8th – 19th March. No previous medical experience is necessary as volunteers will not be asked to administer the tests to pupils. By doing this, you would be helping to return our community's children to their classrooms in as safe and timely a manner as possible.
If you are able to help us with this task, please complete the form on the link below, giving your availability to assist with testing and to attend one training session. Volunteers who are able to offer consistent blocks of time during this period would be particularly helpful in enabling us to carry out this complex activity.
Please share this message with any other adults you know who might be able to offer their support.
https://forms.office.com/Pages/Response
With many thanks in anticipation of your help,
Claire Coates
Principal
Y9 Virtual Options Evening 21st January 2021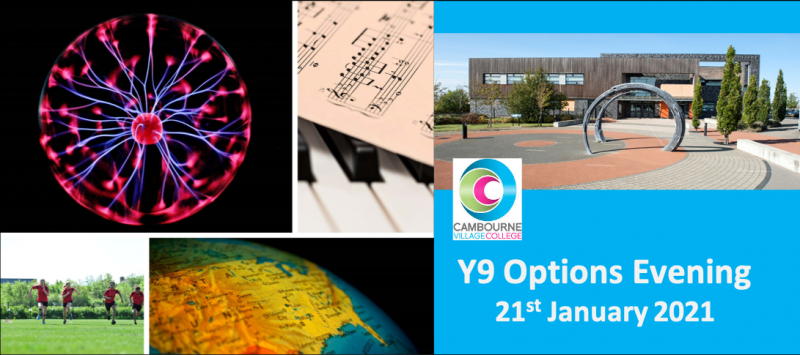 If you were unable to join us for our Virtual Y9 Options Evening 2021 live event, a recording of the presentation can be found here.
The link to the virtual Options Evening webpage is available here.
The KS4 Options Brochure can be downloaded here.
FAQs about the Options Process are available here.
Action Calendar: Friendly February 2021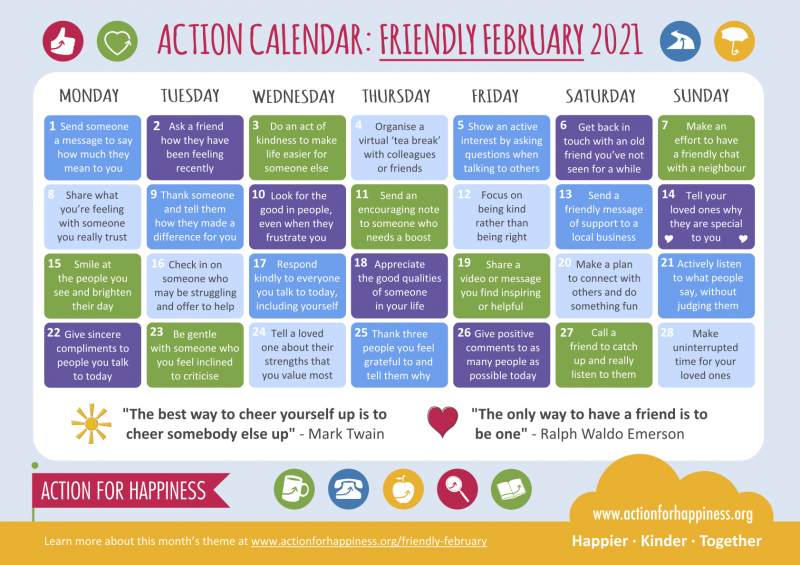 Please click here to download a copy of the Friendly February 2021 Calendar.
Wellbeing suggestion

Welcome to Cambourne Village College
Thank you for visiting our website.
Cambourne Village College, an academy of The Cam Academy Trust, opened in September 2013 for a first cohort of just 132, Year 7 pupils. Since that time, we've experienced quite remarkable growth, gaining one cohort of pupils per year until September 2017 when we were a 'full' 11-16 school for the first time. We now have almost 1200 pupils on roll and sit at the heart of one of the fastest growing communities in the UK. We seek to be able to offer a place to all pupils who live in our catchment.
The College has enjoyed remarkable success since first opening, gaining an Ofsted Outstanding rating, along with designation as both a Leading Edge and a Teaching School. In 2019, we were granted the International School Award by the British Council. We are committed to ensuring that all our pupils achieve their utmost academic potential, whilst providing an outstanding extra-curricular offer and an inclusive, welcoming environment.
From the outset, our 'Village College' remit has been central to our ethos. We support an active adult education programme and usually, more than 30 community groups and organisations make use of the school's facilities. This unusual commitment to our local community was a key factor in our winning a prestigious Silver Award in the 'Making a Difference' category of the Pearson School of the Year celebrations in 2018.
The rapid growth in our pupil numbers is reflected in the ongoing expansion of our facilities. Extra accommodation was added in 2017, and a further wing, designed as the first part of a potential sixth form centre, has been in use since January 2020. The College is working with the Local Authority to be able to offer Sixth Form provision from 2023.
Our aims are summed up below: and further explained in our Ethos Statement.
Aspiring to Excellence
We are a dynamic, innovative and outward-looking school.
We value every individual and seek the best possible outcomes for each one.
Our staff is highly qualified, exceptionally committed and continually learning.
We nurture mutually-beneficial partnerships which enhance our pupils' opportunities and well-being.
We are sustained by collaboration, mutual support and trusting relationships.
We are an open, friendly school, where all people feel they belong.
We are proud to serve our community of Cambourne and want Cambourne to be proud of us.
I hope you find our website interesting and informative: if there is anything else that you would like to know, or if you would like to arrange a visit to the College, please do Contact Us.
Claire Coates
Principal