Education-All
Education-All: a new free public lecture series!
Introducing our brand-new public lecture series! We hope that these free lectures help to foster a love and interest in a variety of subjects. There will be a range of speakers and the opportunity to ask questions at each lecture. This also fits in with our wider school remit of being a Village College, inspired by the ideas of Henry Morris, in which schools should act as a community hub and that education is a lifelong process. Everyone is welcome!
For this academic year, all lectures will be online and shared via Microsoft Teams. Since moving our lectures online, we have been able to invite multiple schools- attached is a map highlighting where people have been 'tuning in' from. We have had up to 270 people attend our live lectures and even more access our recordings which are freely available on the school website. Details about how to join the events (free of charge) will be available via the school website and via Twitter: @Education__All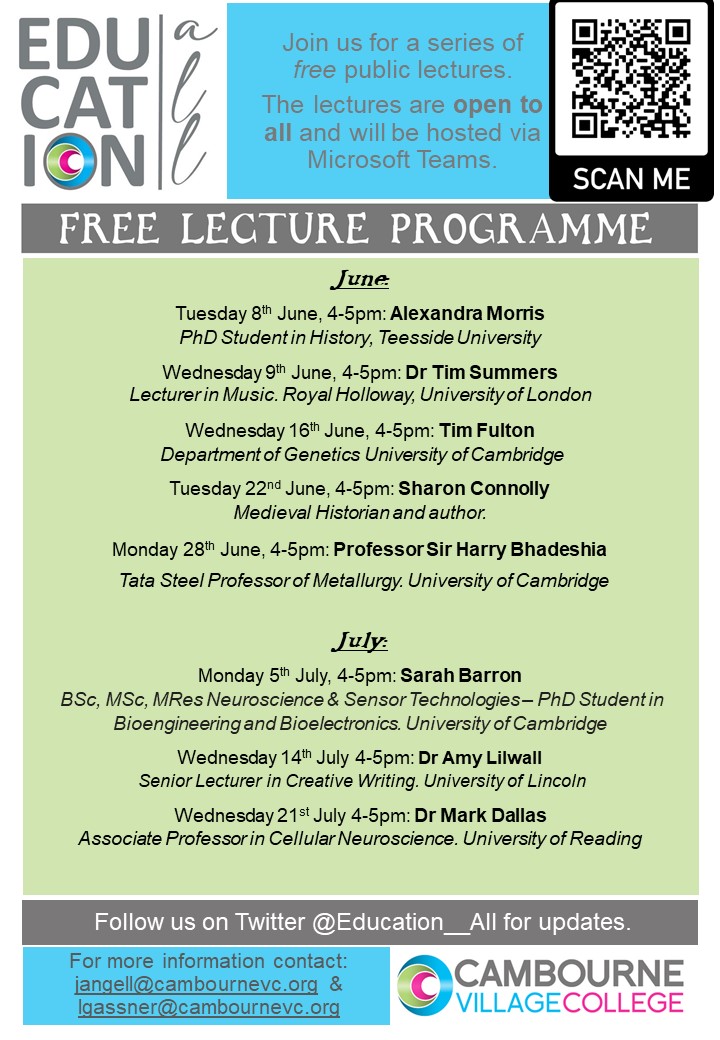 Recordings of previous lectures:
Education-All Lectures:
Please follow the links below to access the recordings of previous lectures and feedback forms.
Historic-All Lectures:
Please follow the links below to access the recordings of previous lectures and feedback forms.
Reading Lists
Were the Peasants really Revolting? The Great Revolt of 1381 and its Aftermath by Dr Claire Kennan. Please follow this link to access a reading list put together by our speaker Dr Kennan
Lecture dates and links:
May:
Wednesday 26th May, 4-5pm. Dr. Phillip Horky, Associate Professor of Ancient Philosophy, Durham University.
Pythagoras: between Science and Religion
Join via Microsoft Teams: https://bit.ly/3mpw2Wc
June:
Tuesday 8th 4-5pm: Alexandra Morris, PhD Student in History, Teesside University
Let That Be Your Last Battlefield: Tutankhamun and Disability
Tutankhamun, an 18th dynasty Egyptian pharaoh and the most iconic figure in ancient Egypt recognized for the extreme beauty of his funerary goods and tomb by nearly everyone worldwide, remains embroidered and hyperbolized. He is now known to have been disabled with a clubbed foot, Kohler's disease, and cleft palate; several potentially severely painful disabling conditions. There has been little to no recognition in the Egyptology and archaeology communities of how his disability factored into his personal, political, religious, and social roles within Egyptian society. Additionally, almost no recognition of his disability is mentioned in contemporary materials made for the general public. He remains the perfect face of a pharaoh, despite his very real disabilities. There has been little consideration or research into whether his tomb was adapted to fit his needs as a disabled man. This presentation will explore how Tutankhamun ̓s tomb was perhaps modified to fit his needs as a disabled person, through an examination of the tomb layout, certain artefacts, botanical materials, artwork, and other grave goods. This presentation will also show how his tomb is perhaps the pinnacle of disability acceptance that existed within the various facets of ancient Egyptian society. Finally, it posits that disability need not be hyperbolized into an all or nothing proposition, and his injuries and death may have been caused by a confluence of events.
Join via Microsoft Teams: https://bit.ly/2RBiPOu
Wednesday 9th 4-5pm: Dr Tim Summers, Lecturer in Music. Royal Holloway, University of London
How does video game music work?
Video games reach an audience of billions of players. This talk explores the musical experiences and materials that players encounter. It discusses what music does in games and how it performs those functions. Using a set of examples from across a wide range of games, it will consider the musical value of games, and why it's important to take game music seriously, especially when there are so many pairs of ears involved.
Join via Microsoft Teams: https://bit.ly/3y6I4sW
Wednesday 16th 4-5pm: Tim Fulton, Department of Genetics University of Cambridge
Where do we come from? An exploration of the embryo
Where we come from is a question which has puzzled humanity for centuries. How do we apparently come from nothing and grow into a full sized human which is then able to recreate more humans. During this lecture, we will travel through the history of embryology and developmental biology to look at the ideas of how we formed. Starting with the wild ideas of the Ancient Greeks through to the most recent developments in stem cell research, we will investigate the process which created us all.
Join via Microsoft Teams: https://bit.ly/3xWjtac
Tuesday 22nd 4-5pm: Sharon Connolly, Medieval Historian and author.
Remarkable women in medieval history
Sharon Bennett Connolly will present a talk highlighting some of the medieval women whose stories have inspired others down the centuries. Her talk will include those women who founded dynasties, inspired reform and fought to defend their homes. From the great heiresses to religious anchorites, Sharon will speak of how women of all classes and vocations influenced European history.
Sharon Bennett Connolly is the best-selling author of 3 non-fiction history books. Sharon is the author of Heroines of the Medieval World, Silk and the Sword: The Women of the Norman Conquest and Ladies of Magna Carta: Women of Influence in Thirteenth Century England. Her fourth book, Defenders of the Norman Crown: Rise and Fall of the Warenne Earls of Surrey, telling the story of the Warenne earls over 300 years and 8 generation, is due to be released in May 2021. A member of the Royal Historical Society, Sharon has studied history academically and just for fun – and has even worked as a tour guide at historical sites. She writes the popular history blog, www.historytheinterestingbits.com. Sharon regularly gives talks on women's history; she is a feature writer for All About History magazine and her TV work includes Australian Television's 'Who Do You Think You Are?'
Join via Microsoft Teams: https://bit.ly/3h7Mz0h
Monday 28th 4-5pm: Professor Sir Harry Bhadeshia, Tata Steel Professor of Metallurgy. University of Cambridge. Department of Materials Science and Metallurgy
The metal fragment and the Cuffley Airship
The Cuffley airship was the first to be shot down over Britain and an elderly colleague of mine gave me a piece of metal which his distant relatives collected from the crash. I investigated the historical background and the science of the fragment to reach a conclusion about where the fragment of metal actually came from. The talk would be a mixture of history and science that can be appreciated by a broad audience.
Join via Microsoft Teams: https://bit.ly/3tucL7U
July:
Monday 5th 4-5pm: Sarah Barron, BSc, MSc, MRes Neuroscience & Sensor Technologies – PhD Student in Bioengineering and Bioelectronics. University of Cambridge
What is reality?: How the brain shapes our perception and what can go wrong in neurological disorders
Abstract: Our perception of the world and reality is governed by chemical signals and electrical impulses that run through our brain and nervous system at speeds of up to 230 mph (the top speed of an F1 car!). Our brain and nervous system controls everything from our eating behaviours, sleeping patterns, memory, co-ordination and all of our senses (touch, taste, smell, hearing, sight, balance, time of day)! It's a hugely complex system that controls almost every aspect of our being, so it comes as no surprise that even a small change following an injury or during development can hugely impact a person's sense of self and reality. During this talk we will explore the different components that make up the brain and nervous system and how they function in a healthy person. We will then explore some common developmental, neurological and neuropsychiatrist conditions and consider how this may alter a persons ability to process the world and if treatments are always necessary. We will then end by briefly discussing my career path, my current research and consider other non-traditional scientific jobs beyond University and academic roles.
About the researcher: Sarah received her BSc and MSci in Neuroscience and Brain-imaging from the University of Nottingham (2018). She received here MRes in Sensor Technologies from the University of Cambridge (2019) and is currently perusing her PhD in Bioelectronics at the University of Cambridge. Her research involves fabricating micro-electronics for monitoring and testing new therapeutics in cells taken from patients of various diseases. Sarah is from a working class background and is the first generation in her family to attend University. She is passionate about STEM (Science Technology Engineering and Mathematics) outreach and education and believes everyone should have the opportunity to receive quality education. She is also passionate about raising awareness for mental health conditions and healthy coping mechanisms for stress, especially during teenage years. She is very open and always happy to chat or answer any questions you may have via email (slb222@cam.a.uk), linkedIn https://www.linkedin.com/in/sarah-barron-14b080106/ or Twitter @BioTechBarron
Join via Microsoft Teams: https://bit.ly/3tSUJwl
Wednesday 14th July 4-5pm: Dr Amy Lilwall, Senior Lecturer in Creative Writing. University of Lincoln
This lecture will discuss the tropes of the dystopian novel with a focus on the elements of narrative (Referring to The Handmaid's Tale, Nineteen Eighty-Four, Brave New World and Ishiguro's Never Let Me Go). A dystopian world building exercise will be included where the students will be required to write the opening of a story. Students are then encouraged to share what they've written with the group through the chat function.
Join via Microsoft Teams: https://bit.ly/34ctVMZ
Wednesday 21st 4-5pm: Dr Mark Dallas, Associate Professor in Cellular Neuroscience. University of Reading
Brain Glue- sticking it to dementia
Nearly a million people in the UK today are living with dementia. Currently there is no treatment that will prevent, cure or slow down its progression. To overcome this scientists are now studying not only nerve cells in the brain, but the so-called glial cells – previously thought to be just the 'glue' that sticks other brain cells together. Evidence suggests that these cells could provide insight and even early warning about the onset of disease, years before clinical symptoms develop.
The human brain is the most complex computer we have, yet we are still discovering the basics of how it works. This session will explore some of the challenges in finding treatments for brain diseases, and reveal the potential of glial cells in the fight against Alzheimer's disease.
Dr Mark Dallas is a Associate Professor in Cellular Neuroscience at the School of Pharmacy, University of Reading. He is the Academic Co-Ordinator for the Alzheimer's Research UK Thames Valley Network, has published extensively on dementia and sits on the editorial boards of several scientific journals.
Join via Microsoft Teams: https://bit.ly/3tv7mgK
History Lectures:
A reminder that our previous Historic-All History public lectures are available to view free of charge on the school website: https://www.cambournevc.org/news-and-events/historic-all
Thank you for all your support!