Historic-All
Recordings of previous lectures:
Please follow the links below to access the recordings of previous lectures and feedback forms.
Historic-All Lecture Update- now weekly!
Thank you all for your support of our free public lecture programme so far. Originally, we intended to host these monthly but due to the current lockdown we have decided to host at least one a week during this Half Term. We hope that these lectures will help students and the wider community during this period of remote working, and we are incredibly grateful to all the speakers who agreed to take part at late notice.
For this academic year, all lectures will be online and shared via Microsoft Teams. Details about how to join the events (free of charge) will be available via the school website https://www.cambournevc.org/news-and-events/historic-all and via Twitter: @Historic_All
Our monthly scheduled lectures will still continue from March.
The aim of these lectures is multifaceted: they expose our students and the wider community to academics and scholarly debate, and they are intended for History teachers to continue to build subject knowledge, but most importantly they foster a love and interest in the subject. This also fits in with our wider school remit of being a Village College, inspired by the ideas of Henry Morris, in which schools should act as a community hub and that education is a lifelong process. Everyone is welcome- spread the word!
Thank you for all your help and please do get in touch if you have any questions.
Best wishes,
Miss Angell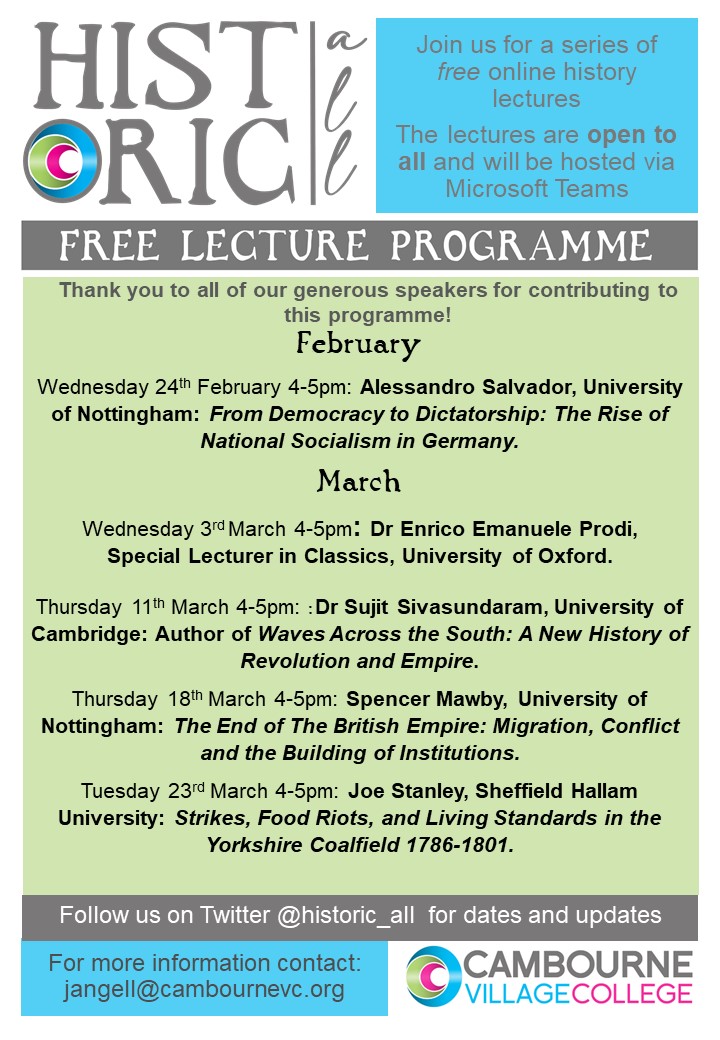 Wednesday 24th February 4-5pm: Alessandro Salvador, University of Nottingham:
From Democracy to Dictatorship: The Rise of National Socialism in Germany.
Join via MS Teams: https://bit.ly/2OyeYjN
The Weimar Republic was meant to be of the most advanced democracies in Europe. Yet, in 15 years, it turned into one of the most brutal dictatorships of the Twentieth Century and, ultimately, led to the catastrophic event that was World War II. In this lecture, we will talk about the significant social and economic challenges of the inter-war years, the role of traditional elite, and the impact of mass politics on the frail democratic structure of Germany. Ultimately, we will try to understand how Adolf Hitler came to power, and what can we learn about the weaknesses of democracy.
Wednesday 3rd March 4-5pm: Dr Enrico Emanuele Prodi, Special Lecturer in Classics, University of Oxford.
Join via MS Teams: https://bit.ly/3adzL4E
Thursday 11th March 4-5pm: :Dr Sujit Sivasundaram, University of Cambridge: Author of Waves Across the South: A New History of Revolution and Empire.
Join via MS Teams: https://bit.ly/3tZgOdV
Thursday 18th March 4-5pm: Spencer Mawby, University of Nottingham:
The End of The British Empire: Migration, Conflict and the Building of Institutions.
Join via MS Teams: https://bit.ly/3diLbWP
Recent books by Akala and Sathnam Sanghera have made the case that the Britain we live in has been shaped by the country's imperial history. This lecture will explore some of the ways in which imperial history determined the futures of the territories that were governed by Britain. It will examine three themes in particular: migration, conflict and institutions. The history of migration across the empire altered the demography and politics of many imperial territories in way that are still evident. This movement of people is connected to a history of conflict and the number of imperial wars that took place after 1945 are still not sufficiently recognised. Lastly, the export of western institutions, such as Christian churches and trade unions, has also had a lasting legacy that requires further exploration. Examples from across the globe will be offered but particular attention will be given to Uganda, Kenya and Zimbabwe.
Tuesday 23rd March 4-5pm: Joe Stanley, Sheffield Hallam University:
Strikes, Food Riots, and Living Standards in the Yorkshire Coalfield 1786-1801.
Join via MS Teams: https://bit.ly/3tUpRwG
In this talk we'll look at how protest action, specifically trade union coordinated strikes, took place to maintain or improve Yorkshire colliers' living standards amid fluctuating food costs between 1786-1801. We'll also examine how some coal owners avoided disturbances - such as riots - by paying high wages and, more importantly, providing food to their employees free of charge at the worst times of dearth in 1795 and 1800.
Q & As
A number of historians have very kindly answered a range of questions about their work and interests.