Historic-All
Historic-All free lecture programme:
Thank you to everyone who attended our first online free History lecture on Wednesday 11th November. We had over 70 attendees! If you did attend, please fill in this short form to help us plan our future events: https://bit.ly/36vAgUq
Our next lecture will be on Tuesday 1st December (4-5pm) with Dr George Gilbert who will be presenting about the Russian Revolution of 1917!
This talk will look back at the year 1917 in Russia. It will consider the impact of the Great War (1914-17) in Russia and then summarise the events of the revolutionary year, considering how the Bolsheviks were adept at sloganizing the people's concerns (e.g., the April Theses' calls for peace, land and bread). It will then briefly look at the Civil War period, and consider why commemoration of the centenary of 1917 was downplayed in contemporary Russia.
More information can be found via Twitter: @Historic_All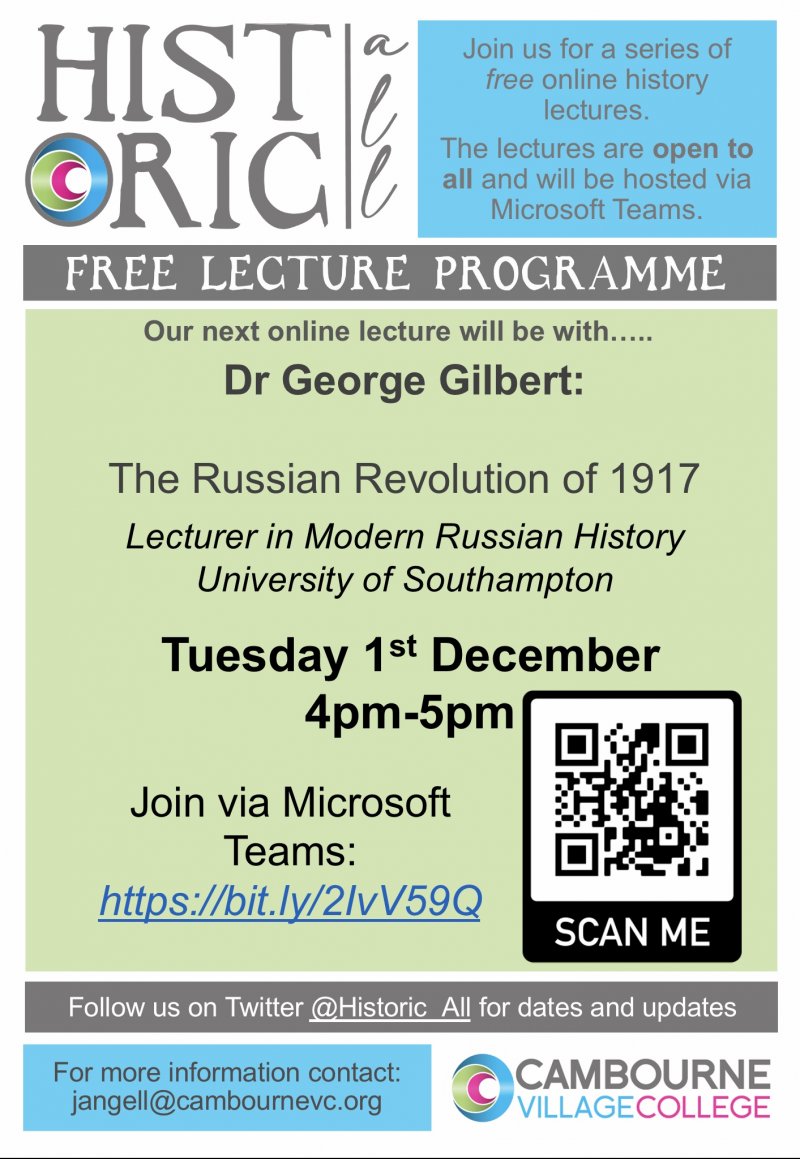 Return of Historic-All lecture programme!
The Cambourne History Department are thrilled to announce the return of thier free public lecture programme. The aim of these lectures is multifaceted: they expose our students and the wider community to academics and scholarly debate and they are intended for History teachers to continue to build subject knowledge, but most importantly they foster a love and interest in the subject. This also fits in with our wider school remit of being a Village College, inspired by the ideas of Henry Morris, in which schools should act as a community hub and that education is a lifelong process. Everyone is welcome.
For this academic year, all lectures will be online and shared via Microsoft Teams. The link to these events will be made available on the school website and via social media. For more information contact Jess Angell (Head of History): jangell@cambournevc.org
Follow us on Twitter: @Historic_All
News update....First Lecture:
Our first online lecture is on Wednesday 11th November (4pm) with Dr Andre Keil from Liverpool John Moores University.
Join via Microsoft Teams: bit.ly/3os0oIa
Dr Keil will be presenting his lecture: "War Commemoration and Mass Media: How Radio, Film, and Photography Shaped Our Image of the First World War" and will focus on Remembrance and The First World War.' This event will be free of charge to students, parents, carers, teachers, and anyone in the Cambourne and wider community with an interest in History. This lecture will be of particular interest to students in Y9 who are currently studying the causes of the First World War in History.
The talk will explore how new forms of mass media have shaped the way people in Britain, Germany, and France remembered the dead of the First World War. It will explain how individual acts of commemoration were connected by mass media, but also discuss how new media created new traditions. War commemorations became media events in interwar Europe and this had a direct impact on people remembered and "imagined" the war. At the same time, the talk will also discuss why war commemoration also became a politically contested issue. There will also be the opportunity to ask Dr Keil questions.
Q & As
A number of historians have very kindly answered a range of questions about their work and interests.