Extended Learning Opportunities
It is a vital strength of Cambourne Village College that we have students who display a whole range of abilities and talents. Our definition of ability and talent recognises academic, practical, creative, musical, physical, sporting and social performance.
Please visit this page regularly to find extended learning opportunities: competitions, lecture series, drama and performance opportunities, career talks, extension tasks, reading ideas, public and private seminars and webinars, and many other ways to extend learning.
We aim to develop the full positive potential of every individual pupil in our care and recognise that this means the full development of the different parts of individuals' lives. All students have the right to have access to challenge within their work.
We support those identified as Gifted, Talented and Most Able in a number of ways: differentiated teaching within the classroom, additional opportunities beyond the classroom and homework extension opportunities.
Identified Gifted and Talented students should take leading roles in discussions, debates and group work, and undertake extension work both within class and as homework. For more specific guidance on extension work please refer to the Parental Handbook for the relevant year.
Political Literacy Course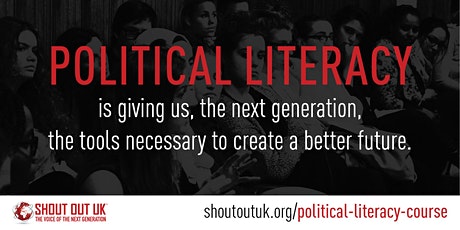 We are delighted to offer an exciting opportunity for any student in Year 10: from next month we'll be running a six-week course (each session lasting 1.5 hours) in Political Literacy. As in previous years, this course, devised by Shout Out UK, results in certification by the exam board AQA, and culminates with an evening of students' presentations and a guest speaker (often an MP or political journalist). Please email Mrs Coleridge or the College to register your child's interest.
Poetry Competition
Need a final creative challenge to round off lockdown?
The poem below was written by a student called Brennig Davies and reflects on how life has changed in the last year. He imagines meeting his past self - "last year's me" - and considers all the things he didn't know and does now.
How have you changed in a year? What have you learned since the start of 2020? What would you say if you met your past self today? Or would you, like this poet, say nothing at all and simply walk on?
Write your own poem inspired by Brennig's and send it to Mrs Spreadbury (vspreadbury@cambournevc.org) by the end of the school day on Wednesday 17th March. There will be a prize for the best entries from Y7-9 and Y10-11.
2020 Vision
Last night I ran into last year's me
As he walked down Mansfield Road,
Red bag hanging from his shoulder,
Stressed about essays about centuries-dead men.
I thought to stop him, and tell him:
That in one turning of the earth round the sun
The light in the world would change,
And the road would be drained of its cars,
And its people, and me.
He doesn't know about masks, which are
Still just things to be worn at parties, or bubbles,
Which are still things free to float,
Or that friends ad funerals are abstract concepts,
Like time, like a time before.
But last year's me still lives there,
And who am I to evict him?
So we smiled, and passed, on Mansfield Road,
And I stopped myself from following.
Brennig Davies
PE Lectures
Free online public lectures hosted by the PE Department. Targeted at students, teachers, & members of the community. Everyone is welcome!
Know your 'self' by Dr Liz Durden-Myers, Senior Lecturer in Physical Education
Norwich City FC Regional Development Programme. Lecture Feedback Form.
Historic-All Lectures
Free online public lectures hosted by the Cambourne History Department. Targeted at students, teachers, & members of the community. Everyone is welcome!
Originally, we intended to host these monthly but due to the current lockdown we have decided to host at least one a week during this Half Term. We hope that these lectures will help students and the wider community during this period of remote working, and we are incredibly grateful to all the speakers who agreed to take part at late notice.
For this academic year, all lectures will be online and shared via Microsoft Teams. Details about the events, how to join them (free of charge), links to access the recordings of previous lectures are available via the school website https://www.cambournevc.org/news-and-events/historic-all and via Twitter: @Historic_All
The aim of these lectures is multifaceted: they expose our students and the wider community to academics and scholarly debate, and they are intended for History teachers to continue to build subject knowledge, but most importantly they foster a love and interest in the subject. This also fits in with our wider school remit of being a Village College, inspired by the ideas of Henry Morris, in which schools should act as a community hub and that education is a lifelong process. Everyone is welcome- spread the word!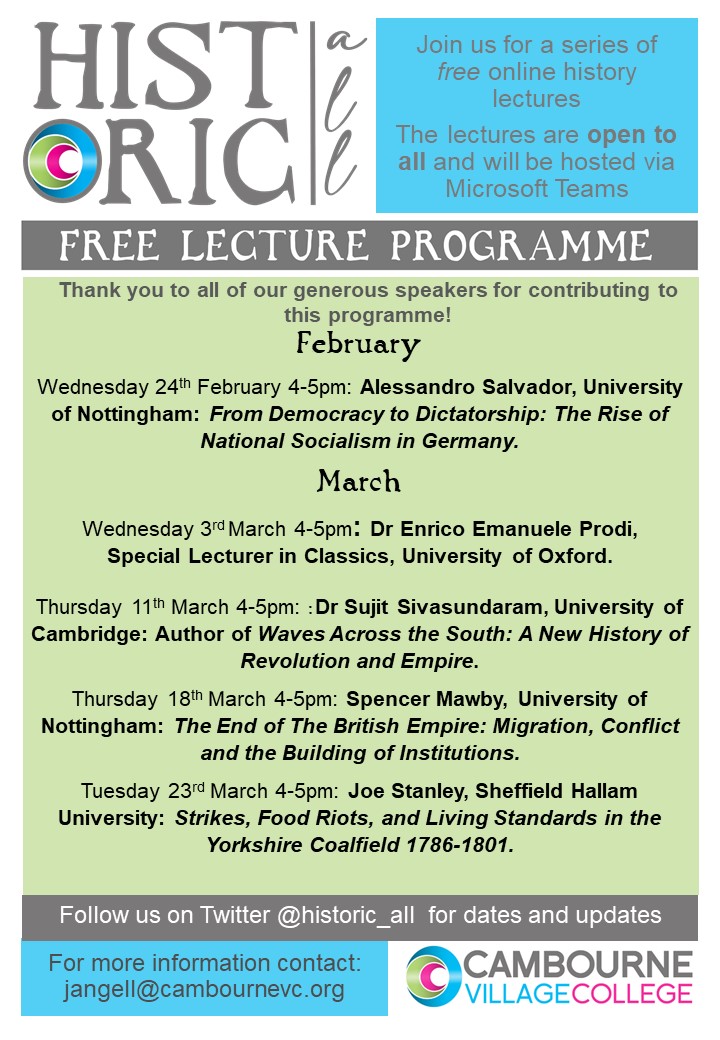 CAM-Book Club on Teams
Follow this link to access the school online Book Club on Teams to share reading suggestions and thoughts on the books we've been reading.
Amongst several channels, you will find a channel of Recommended Articles that school staff have chosen as being particularly interesting. If you are looking for something to read, there is a continually-updated selection – they'll fit nicely into the reading time each day, and offer something current to learn more about.
The PE Department manages its very own PE Book Club with a weekly selection of short articles relevant to the world of sport and a short book review from a member of the PE department.
Links for Extended Learning
THE LITMUS CREATIVE WRITING PROJECT 2021!: https://web.trin.cam.ac.uk/litmus/
The 2020/21 Cambridge Religion on Film Competition: https://www.divinity.cam.ac.uk/study-here/open-days/filmcomp