Parent Bulletin: 12.01.2021
12th January 2021
Dear Parents and Carers
We're impressed with current attendance levels for remote learning; thank you for the encouragement you're giving to your children to work so hard. As we settle into this new phase, staff are working hard at making lessons as engaging as possible and this afternoon we devoted much of our Heads of Department meeting to sharing notes on our most successful teaching strategies; Ms Gildea will share more information on our school approach with you, later this week.
Parents of Year 11 – A separate School Post will be coming to you and your Year 11 children this evening with an update on school processes. Please do pass on our congratulations to Year 11 for their high levels of engagement and attendance, in the midst of such uncertainty. This is the best possible approach they can take.
Critical Worker School - Our updated risk assessments for school opening and the new testing process are available on our website: COVID-19 - Cambourne Village College (cambournevc.org)
Parents may also be interested to view this very short video of the school testing centre.
Today the team completed 68 lateral flow tests within 2 hours 30 minutes – this set-up represents a phenomenal effort by the test team led by Miss Boyns and Mrs Barker, our Nurse. It's now an important part of our measures to keep the school site as safe as possible.
Historic-All Lecture Update- now weekly! - Here's a message from Miss Angell:
Thank you all for your support of our free public lecture programme so far. Originally, we intended to host these monthly but due to the current lockdown we have decided to host at least one a week during this half term. We hope that these lectures will help students and the wider community during this period of remote working, and we are incredibly grateful to all the speakers who agreed to take part at late notice.
For this academic year, all lectures will be online and shared via Microsoft Teams. Details about how to join the events (free of charge) will be available via the school website https://www.cambournevc.org/news-and-events/historic-all and via Twitter: @Historic_All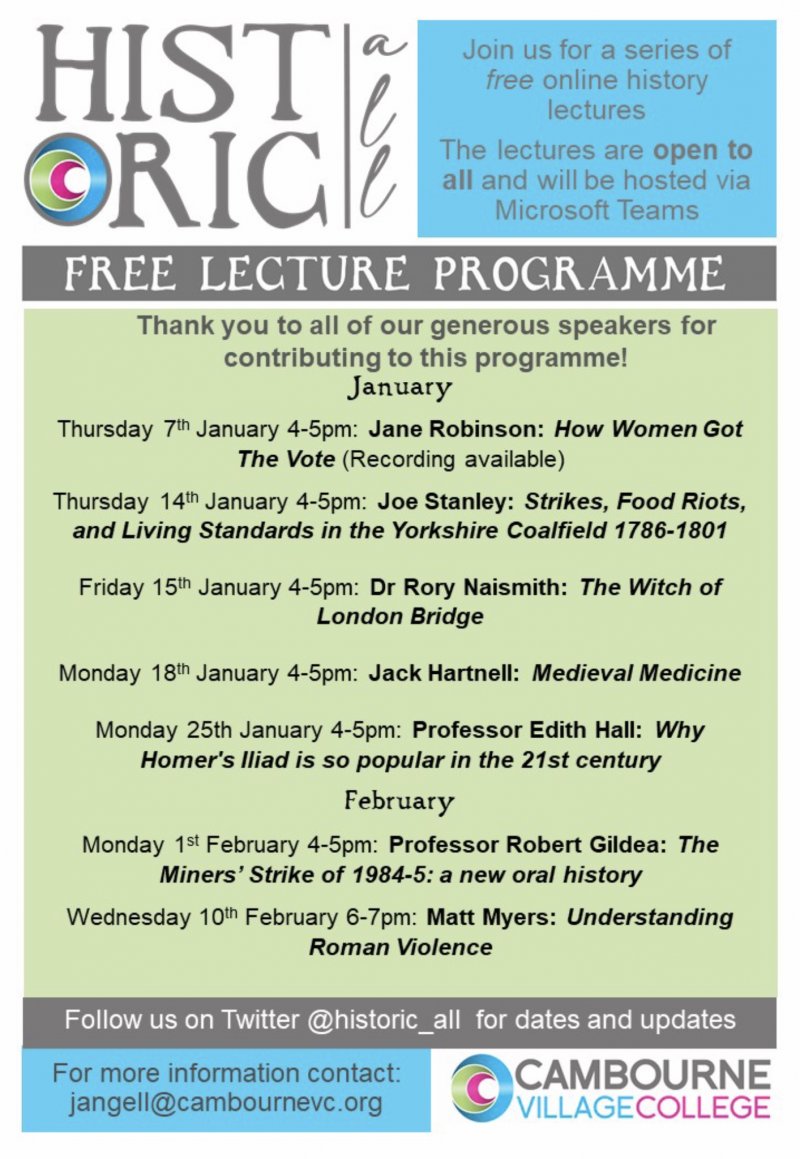 The aim of these lectures is multifaceted: they expose our students and the wider community to academics and scholarly debate, and they are intended for History teachers to continue to build subject knowledge, but most importantly they foster a love and interest in the subject. This also fits in with our wider school remit of being a Village College, inspired by the ideas of Henry Morris, in which schools should act as a community hub and that education is a lifelong process. Everyone is welcome- spread the word. Please do get in touch if you have any questions.
Wishing you all a very good evening. Do take care of yourselves,
Claire Coates